Data from China's customs show that Tajikistan imported bridge cranes from China worth $159,000 in 2021. That's $297,000 compared to 2020. In terms of import quantity, Tajikistan imported a total of 12 sets of bridge cranes from China in 2021, with an average import unit price of US $13,325. A total of 14 sets of bridge cranes were imported from China in 2020, with an average import price of $21,200. Both in terms of import amount and quantity, Tajikistan's demand for China's bridge cranes in 2021 showed a significant decline. How Chinese crane suppliers will develop the crane market in Tajikistan remains to be seen.
As an excellent crane supplier in China, Dongqi Crane can provide various types of overhead cranes for Tajikistan, which can meet the needs of most customers for the working environment, and can provide customers with customized overhead cranes. Dongqi Crane has rich experience in overseas bridge crane service in many countries around the world, and can independently complete the installation and after-sales service of bridge cranes in Tajikistan. In order to help Tajikistan customers better understand our overhead crane products, this article will introduce the working characteristics and technical parameters of different types of overhead cranes one by one. If you are interested in our products, you can click here to contact us, or tell us by Email: sales010@cranesdq.com
Types of overhead cranes sold by Dongqi Crane to Tajikistan
Grab Bucket Overhead Crane for sale to Tajikistan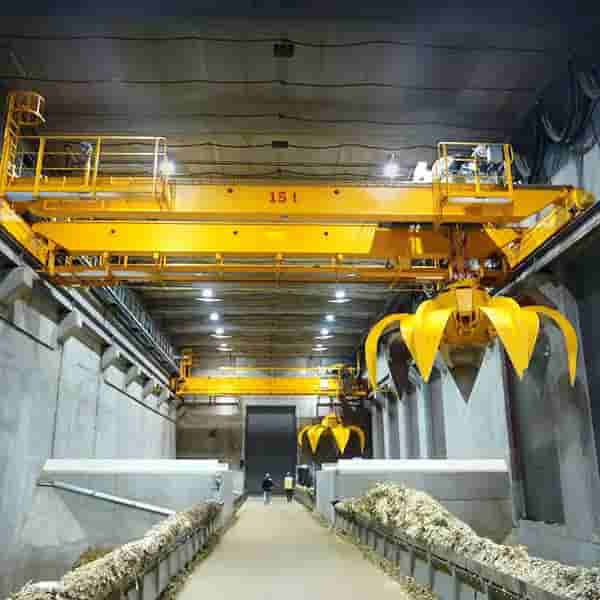 Grab crane is a heavy duty double girder overhead crane equipped with grab bucket, which can be used frequently. The lifting capacity of grab crane included the dead weight of the grab bucket is 5 ton to 25 tons. The working class of the grab crane is A6. The specifications of the grab crane is given in the following table for your reference and customized design can be provided by Dongqi crane.
LD Single Girder Overhead Crane for sale to Tajikistan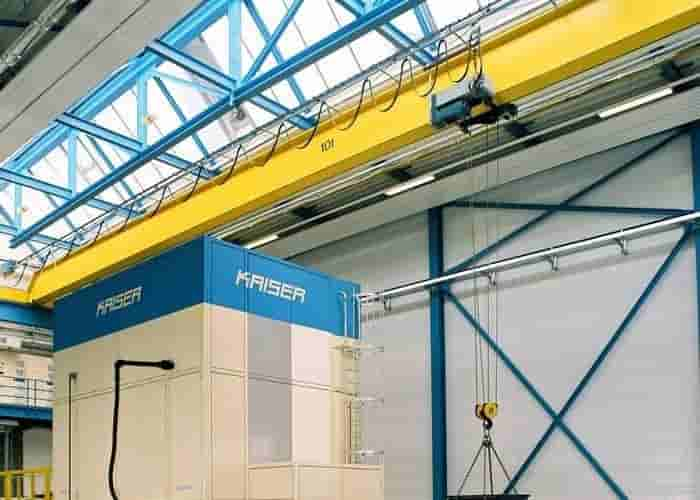 Dongqi supply the single girder crane with lifting capacity: 1~20t, span:7.5~28.5m, lifting height 1~30m, low work class A3,A4. We also design and manufacture the nonstandard crane according users' demanding.
This crane is used in ambient temperature of -25℃~+40℃,humidity≤85%,elevation under 1000m,power supply is 3-ph, 380V,50HZ(can change as user demand).
QC Electromagnetic Overhead Crane for sale to Tajikistan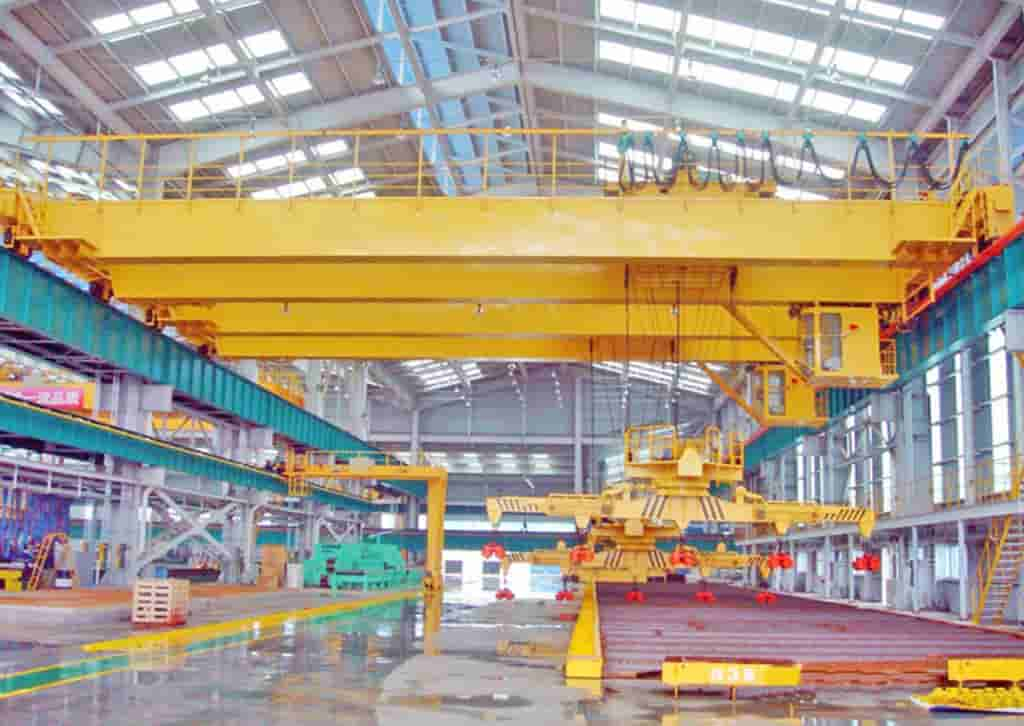 QC Electromagnetic overhead crane is a kind of material handling equipment, equipped with detachable electromagnetic chuck and corresponding operating system to handle and lift metal objects. The lifting capacity of the electromagnetic overhead crane included the weight of electromagnetic is 5 to 32 ton. The working class of electromagnetic crane is A5 and A6. The magnetic retentive time is 10 to 30 minutes.
LH Double Girder overhead Crane for sale to Tajikistan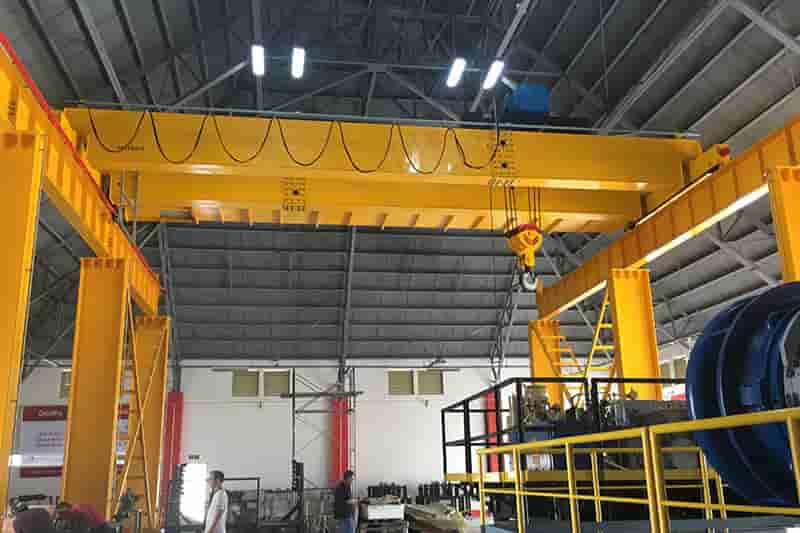 Electric Hoist Double girder Overhead crane is an overhead crane with the electric hoist as the lifting mechanism, with the lifting capacity 5 ton to 63 ton, used for general material handling and lifting. The working class of the electric hoist overhead is A3 to A5.
Type:LH
Lifting Capacity:5~63t
Lifting Height:Span:8m~32m
Working Duty:A3~A5
Ambient Temperature:-20~40℃
QD Double Girder Overhead Crane for sale to Tajikistan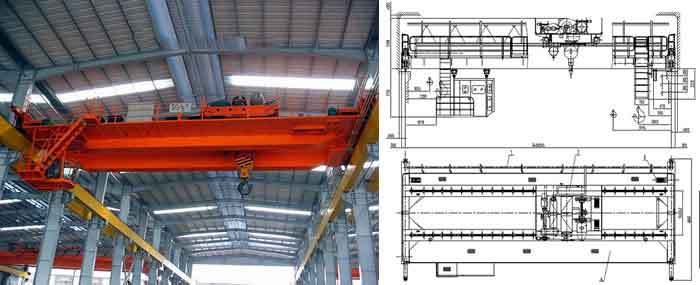 QD double girder overhead crane is composed of bridge, travelling mechanism, trolley, electric equipment. Main girder adopts box welded structure, crane travelling mechanism adopts separate drive, and lifting mechanism is equipped winch. All mechanism are controlled in driver's cab.
QD model double girder overhead crane is applied in open warehouse or rail sideways to conduct common loading unloading and material handling works. It is a heavy duty type overhead crane that satisfy frequently using.
QY Insulation Overhead Crane for sale to Tajikistan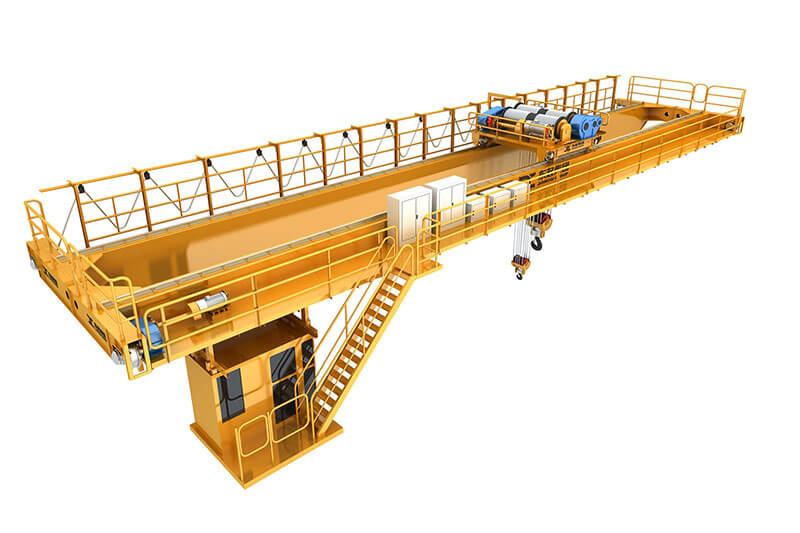 Insulation overhead crane is widely used in smelting workshops of electrolytic nonferrous metal, aluminum and magnesium. This insulation overhead crane is constituted by box-type main girder, crane traveling mechanism, trolley and electrical parts.
To prevent the current passing through the lifting mechanism to the crane and threatening the operator's life, parts of the insulation overhead crane are protected by insulation treatment. Insulation overhead crane work level is heavy duty, so the main lifting is equipped with dual braking in order to ensure safe production.
European Double Girder Overhead Crane for sale to Tajikistan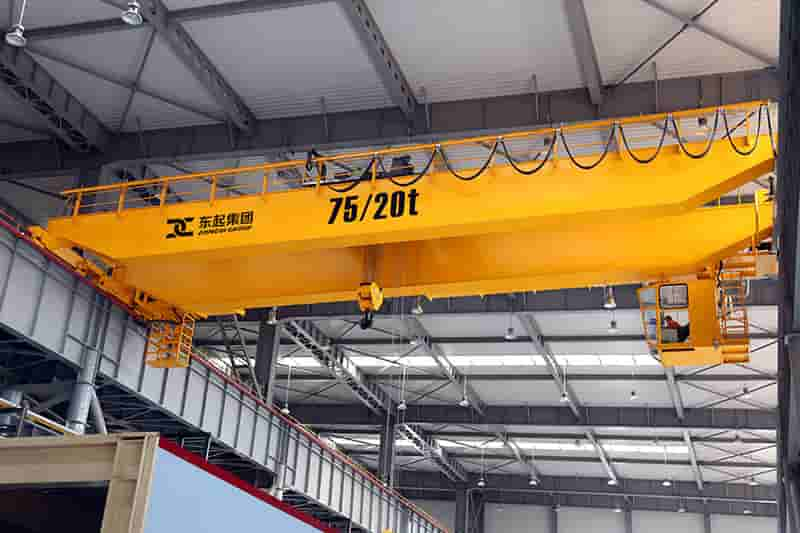 European double girder overhead crane is the latest version of overhead crane, designed with FEM standards, developed on the base of traditional crane, therefore, European double girder overhead crane has unbeatable advantages, such as, unparalleled performance, tight structure, light dead weight, high safety and reliability, high perform efficiency, and widely applications for various industries.
Due to the design advantages, European double girder overhead crane could help you to lower initial investment for factory construction, increase productivity, and lower efforts for daily maintenance, and reduce energy consumption, and obtain higher return on investment.
Types of Overhead Cranes sold to Tajikistan
18t Single Girder Crane with Quality and Quantity Assured for sale to Tajikistan
Lifting weight: 12 tons
Lifting height: 10 meters
Span: 16 meters
Working voltage: 380/3/50
Electric Hoist 6 ton Overhead Crane with Dependable Performance for sale to Tajikistan
Lifting weight: 6 tons
Lifting height: 15 meters
Span: 22 meters
Working voltage: 380/3/50
Electric Hoist 8 ton Overhead Crane with Dependable Performance for sale to Tajikistan
Lifting weight: 8 tons
Lifting height: 12 meters
Span: 18 meters
Working voltage: 380/3/50
Electric Hoist 10 ton Overhead Crane with Dependable Performance for sale to Tajikistan
Lifting weight: 10 tons
Lifting height: 8 meters
Span: 20 meters
Working voltage: 380/3/50
20 ton Electric Hoist Overhead Crane with Dependable Performance for sale to Tajikistan
How to customize Overhead Crane from China
We are a crane manufacturer located in China, providing crane customization services to global crane customers. If you want to customize a Overhead Crane, you can leave a message on the website or Email: sales010@cranesdq.com, tell us the following information, and our sales manager will contact you: